Dr. Robert Duncan-Enzmann
The writer submits Mach's (an Austrian Physicist) principle as the epitome of relational cosmology. He views the concept of absolute space as a monstrosity and relates unaccelerated motion as not related to space but to all masses of the universe. This is largely a verbal description without a physical model. How, then, do these masses act upon one another? Is Mach's model one of force acting at a distance with infinite velocity? He offers no clue.
William, Kingdom Clifford's contention that substance is an accident of space seems more realistic. The model we present is based on reaction as an impulsion mediated by Ætheric increments, within which are much larger QMs, of which substance is coordinated. The model is an extension of Le Sage's Æther. There are no forces at a distance. There are no macrocosmic infinities as gravitational impulsion, for example, at great distances is represented as F = (G mm/R2) (1 – d/D) black holes, dark stars, and galactic central bodies are not 'singular' (impossible situations), they are soon-detonating state changes, dominated by microcosmic structure.
One never-addressed problem with relativity is the representation of aberration as curvature of space. Mathematically bijective, one-to-one-onto mapping is valid, while surjective, onto-mapping can lead to all manner of strange, unreal contentions of reality such as sunspot cycles and the stock market, groundhogs, and how well the Red Sox baseball players succeed. Relativistic mapping of aberration, as described by Voigt, Fitzgerald, Lorentz, etc., is improbable. Voigt's formula was originally applied to sound. Should propagation of sound be described with relativistic field equations? It could be done.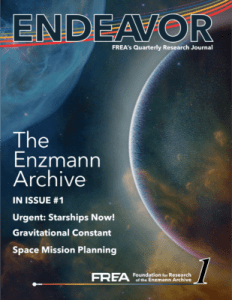 You can also find Enzmann's unique knowledge about many subjects in our topical magazines on the home page!