The Inertial Field
Invented by Dr. Robet Duncan-Enzmann
Writer unknown
 Today, October 10, was a beautiful warm 80 degrees. The autumn foliage was brilliant. This morning I drove to Bob Enzmann's to hear about his 'invention of a lifetime', the invention of an inertial shield.
To help me understand the principle, he described two experiments. In one, the electron field of a Humboldt coil changed the gravitational potential of a liquid in a V-shaped tube. The field caused the liquid to rise in the tube. In the other, the electric field of a Humbolt coil levitated a live frog without harming or disturbing the frog.
Bob described using an electric field as an inertial shield for pilots in situations of extreme acceleration. With shielding a pilot could experience a 1G force during a 25G acceleration. The 1G force would be experienced uniformly through the pilot's body because the field reduces action-reaction of the inertial continuum upon all molecules of the body equally.
With inertial shielding humans can comfortably experience acceleration to light speed in a week. With the invention of the inertial shield, the human limits of acceleration and gravitation will be transcended. Interstellar flight will flourish. With shielding extremely rapid starts and stops of light-speed vehicles will be comfortable for humans.
A bullet could incorporate a field within it to shield its electrons guidance system from the force of extreme acceleration. Inertial shielding of machines will be an industry.
The field can shield humans from the force of gravitation. Humans in the lower gravity of the moon will live in houses with surrounding fields establishing a 1G indoor environment.
Bob's invention began a new science of inertial physics and human biology.
What is the nature of the field?
The field deflects the action-reaction of the inertial continuum.
The field operates at a speed that is three hundred million times faster than light.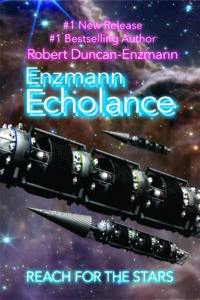 For more from the Mighty Mind of Dr. Robert Duncan-Enzmann, get a copy of Enzmann Echolance and discover how star travel could have been done, and can be done now. The Echolance is an elegant ship and could have been built in the 1980s – so why are we still here? Good question. That and other secrets are within the pages of this most unusual book. Get yours here.