Trapunto
Jay R Snyder
Quilted Winter Textiles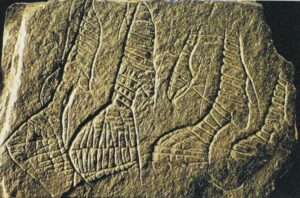 Platte 156, Gönnersdorf, Germany, 12,500 BC, Trapunto 
Trapunto line drawing showing four females, one with a baby papoose.
Pre Indo-European homo sapiens survived the Ice Ages. How? Thousands of records of their ventures have been found throughout Europe painted, etched, and carved on stone, bone, and ivory. To the uninitiated, these records look like scratchings or primitive art, but they are stories – and we can now read them.
Family clans fought glacial winds in deep sub-zero temperatures in insulated homes with glowing fires for heat, light, and cooking. Burning cold air kept their houses warm and eliminated monoxide. Channels below the fire under the floor kept cold air flowing. Their infants were ideally conceived in spring, born in winter, and toddling by summer. Protecting and caring for their children at home secured survival. Oil lamps lit their homes at night while they spun and wove, teaching their children with stories, and they recorded their stories in stone.
The salt gathered, the tool stones dug from ideal outcrops, the mammoths hunted, and the foods preserved were traded as markets developed. Specialties such as weaving, garment making, and needle making added importance to the markets. Some tribes traveled great distances to attend the annual (market) rendezvous.
Gönnersdorf platte 156 is an inscribed stone record from the 12,500 BCE Pre-Indo European Bölling era (see photograph). This is one of hundreds found in the vicinity of buildings from the Magdalenian V Habergeon culture on a low Rhine terrace. This stone tells of a late winter excursion to trade with another hunting clan and to collect tool-making stones. Food-for-textile trading requires months of work and planning; platte 156 is an example of their records. Geographic symbols on this inscription tell where the excursion took place, calendrics tell when.
The geographics and calendrics of Trapunto tell us late winter excursions required warm clothing; the clothing depicted is quilted (sewn) with down. There are four cardinal images depicting a family. A baby girl is carried by her mother. Men are also present in this record indicated by ghosted lines. Men, women, the baby, and a little sister are venturing out to trade their textiles as a family business.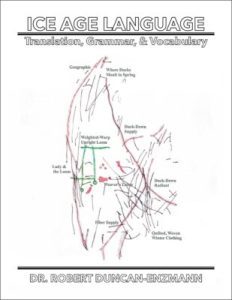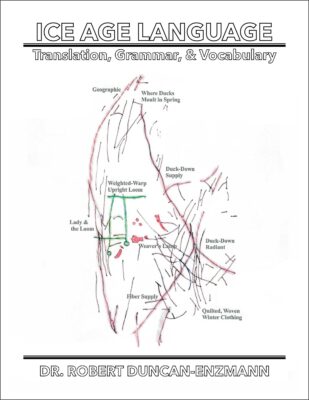 For an in-depth investigation into the world of our ancestors, get a copy of Ice Age Language. Enzmann's translations are astounding. The book is illustrated and includes inscription translations about mother and child, hunting and fishing, hearth and home, and medicine. The inscriptions are from the Gonnersdorf area (Germany) 12,500 BC. Get yours here!